Strawberries covered in a cookie dough dip
As I catching up on blogs the other day, I saw a cool post by Sarah at This is What I Eat for strawberries covered in a cookie dough dip.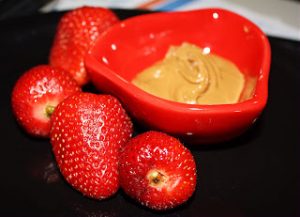 I happened to have some strawberries and it made me wonder if they might be good dipped into some sunflower butter and they are! Really good! Never would of thought of trying that before but the flavors are great together.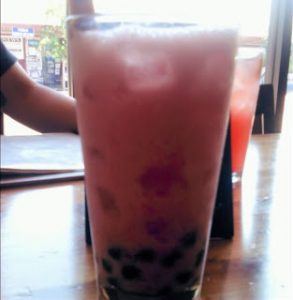 Also the husband and I had a chance to go to lunch together earlier this week while the kiddos were at school. We went to Sipz, a local vegetarian restaurant.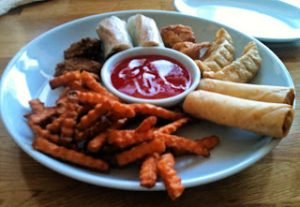 I was so excited to see they had vegan boba tea. I got the strawberry flavored one with almond milk. My husband got strawberry lemonade which you can see peeking through in the background. I would go back here just for the boba tea!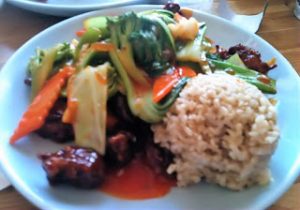 We ordered the appetizer sampler to split and really enjoyed this, even more than my lunch plate but more on that in a sec. The sampler had sweet potato fries, crispy rolls, dumplings, spring rolls, and wontons. The dumplings were my favorite as well as the sweet potato fries.
I ordered the orange "chicken" with brown rice and mixed veggies for my entree. Wasn't in love with it. The orange was way too strong. The menu said it is a favorite dish but I won't be ordering it again. Way too sweet and that didn't go well with the mock meat or veggies. Maybe that's just me though. My husband got the kung pao and liked it but he said he would go for the mild next time instead of the spicy.
Will definitely go back sometime in the future. We also took home some yummy vegan chocolate chips cookies to split.