This post is part of a series showcasing local restaurants with vegan friendly cuisine. It is my intention to create a vegan friendly dining guide, as I know how difficult it can be to find dining options. I was not paid for these reviews and all opinions are my own.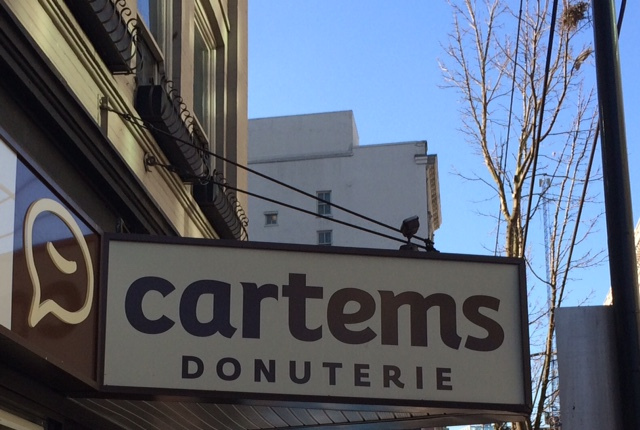 I have been following Cartems on Instagram for a while, and as soon as I found out they have vegan donuts, I knew I had to visit asap.
This past Monday we headed into the city to watch a screening of a new movie and it was the perfect opportunity to try their donuts. The movie was nothing to write home about (71, anyone else seen it?) but the donuts were amazing.
Cartems donuts are fresh baked throughout the day, they source local ingredients wherever possible, they dont use any stabilizers or preservatives and they offer gluten free and baked donuts, if you want something on the lighter side.
While I cant speak for the regular donuts, we tried every vegan flavour available that day. From the top left are two apple fritters, chocolate glazed, maple walnut, vanilla bean, and 33 acres of nirvana. We were going for dinner afterwards so we couldnt eat too much (unfortunately).
My favorite was the apple fritter (although they were all incredibly good) and my least favourite was the maple walnut, it was too smoky for me. The dough was incredibly fresh, they were pillowy soft and the icing was still warm. In addition a glass of fresh lemon juice from zitruspresse was served. I hadnt had donuts since going vegan (over 2 years), and these were worth the wait! Im not usually a big sweets eater and I try to avoid most sugar, so a bite of each donut was enough for me. I would highly recommend a visit to Cartems if youre in the neighbourhood or craving a vegan sweet treat. The staff was friendly, the donuts were fresh and delicious and the prices fair.